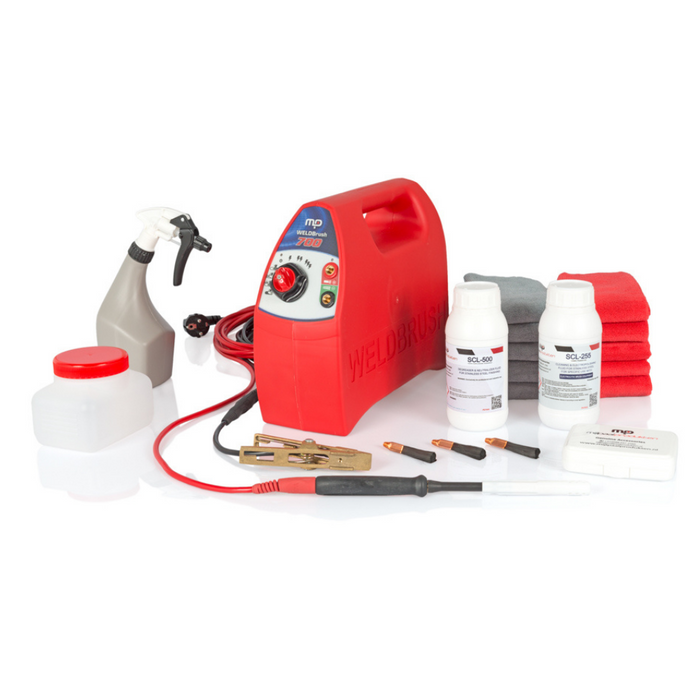 WELDBRUSH 700 WELD CLEANING MACHINE SET | 230V
Save

0

%
Save %
Original price
€4.300,00
-
Original price
€4.300,00
WELDBrush 700 weld seam cleaner starter set for pickling and passivation of stainless steel weld seams and surfaces, electrolytic polishing, stainless steel marking, etching and electroplating.

The WELDBrush 700 is the fastest and most advanced weld seam cleaner on the market. This pickling device is capable of quickly and easily removing discoloration on stainless steel welds without aggressive agents, or as our motto sounds:  'pickling without stain' , because  no  toxic substances are used. In addition, the WELDBrush 700 is able to passivate the stainless steel in one and the same movement.

With its high power, the WELDBrush 700 can handle the toughest jobs with ease. All TIG and MIG welds and heat traces are free of all discoloration within seconds without leaving any traces. A 100% duty cycle that allows continuous work on the highest setting without the device overheating or thermal shutdown.
Useful to know
✔ Most fastest and most advanced weld cleaner on the market
✔ Pickling without stain
✔ Removes heat tint, heat trace, surface contamination and other non-physical imperfections
✔ No use of toxic acids
✔ NSF certified for the food and pharmaceutical industries

Contents starter set:
1 x WELDBrush 700 weld seam cleaner
1 x Power cable 230V (EU)
1 x Cable red - 3.5m 
1 x Cable black - 3.5m 
1 x Earth clamp
1 x Handle 
1 x Connection piece 
1 x Protective Cover for 1 Brush - Sliding
3 x Carbon
Fiber Brush - Standard - Conical 1 x Copper Grease - 8g
1 x Storage Box
1 x SCL-255 Cleaning Liquid - 1L
1 x SCL-500 Neutralizer - 1L
1 x Fluid
Tray - Red Lid 1 x Spray Bottle - Gray
5 x Microfibre cloth – red
5 x Microfibre cloth – gray