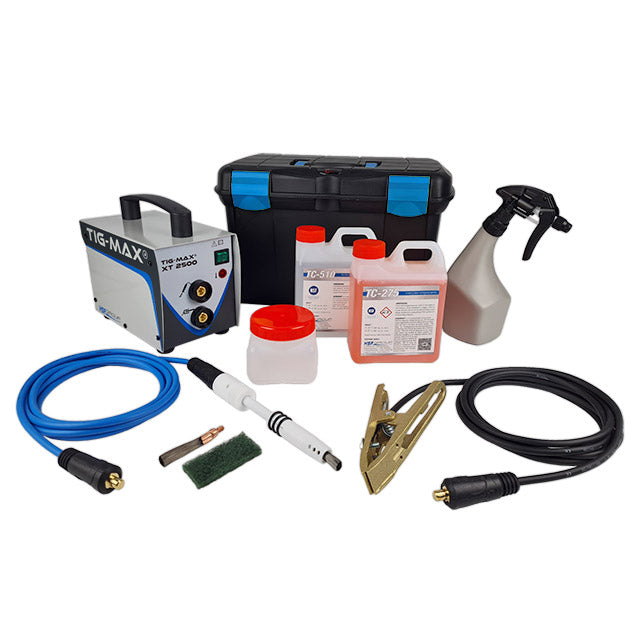 TIG-MAX XT2500 WELD CLEANING MACHINE SET - 230V
Save

0

%
Save %
Original price
€899,00
-
Original price
€899,00
The latest generation of weld seam cleaning devices!
TIG-MAX® XT 2500 - A small, simple and powerful weld cleaning machine with durable attachments.
It is a powerful, mobile and robust cleaning device for TIG, WIG and MIG welds.
The weld seam cleaning device clean & passivates in just ONE operation! 
The TIG-MAX® XT 2500 works with a carbon fiber brush with a sliding sleeve system. This is used to insulate and bundle the carbon fibers, since the electrical energy is only effective in the tip of the brush. For an optimal result with thicker weld seams, a double brush can also be used instead of the single brush.
Due to the simple operation and the low weight, the TIG-MAX® XT 2500 weld seam cleaning device is ideal for the following areas of application: construction sites, assembly in pipeline construction, in the workshop and in many other areas.
With the marking set we also offer you an additional function. With the help of the marking set, you can make individual markings or engravings/signings. This enables you to present your logo on any stainless steel surface. Just ask for your individual template!
You will also receive the following accessories included in the set for the device:
1 x TIG-MAX® XT molded handle cable, blue, 3m
1 x TIG-MAX® XT ground cable, 3m, incl. ground clamp
2 x TIG-MAX® XT 2500 cleaning brush
1 x TIG-MAX® XT 2500 sliding insulating sleeve
1 x TIG-MAX® XT transport box
1 x TC-275 cleaning liquid 1 liter
1 x TC-510 neutralizer 1 liter
1 x liquid container
1 x spray bottle
1 x operating instructions and quick start guide
1 x stick incl. safety data sheets and videos for use