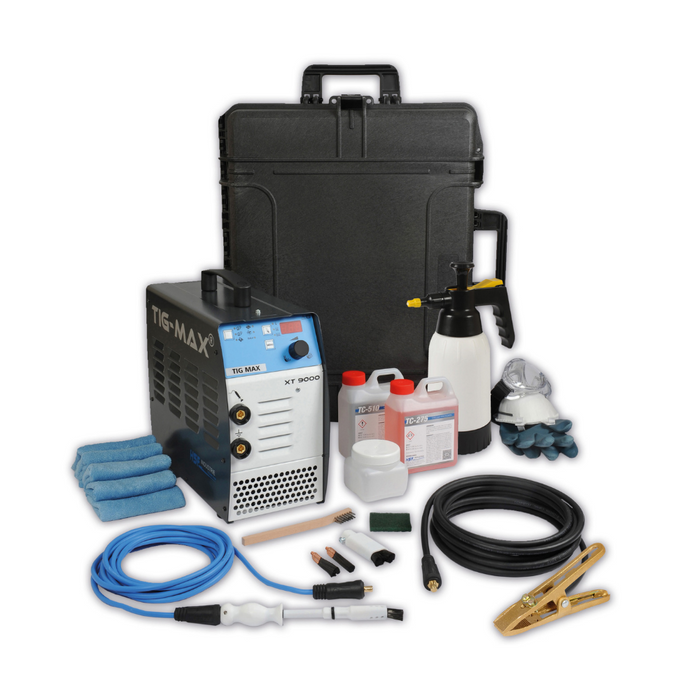 TIG-MAX XT9000 WELD CLEANING MACHINE KIT - 230V
Save

0

%
Save %
Original price
€0,00
-
Original price
€0,00
Tig-Max XT9000 - One of the most powerful weld cleaning machines in the world! 
One operation, no forced breaks, and precise power setting!



The TIG-MAX® XT9000 has been designed to work with the selected cleaning fluids, e.g. TC-275 and TC-225 save time and money. Because it CLEANS, POLISHES and PASSIVATES in just ONE step! The TIG-MAX® XT 9000 also has automatic cooling. This prevents that no forced pauses due to a heated device must be inserted. The device has a stepless power control, so that an optimally adapted power level of the device can be selected.
Powerful, health-friendly, and still a low weight!
The TIG-MAX® XT 9000 is the most powerful WIG cleaning machine of the TIG-MAX® XT series. It cleans TIG, MAG, MIG, TIG and laser welded seams. Especially in the food and pharmaceutical industry, it is often used because it is a health-friendly alternative to pickling.
Thanks to its simple operation and low weight, the TIG-MAX® XT 9000 Welding Machine is ideal for the following applications: construction sites, assembly in pipeline construction, in the workshop as well as in many other areas.
Clean in all corners!
The TIG-MAX® XT 9000 uses carbon fiber cleaning brush to clean welds in hard to reach corners and protect against corrosion. This is provided for isolating and bundling the fibers with a Schiebeisolierhülse so that the electrical energy has a direct contact with the workpiece. For best results with thicker welds, a double or quad brush adapter can be used instead of a brush.
Logos as well as images on stainless steel surfaces!
With the Markingset we offer you an additional function. With the help of the marker set you can make individual markings or engravings / signatures. This allows you to present your logo on every stainless steel surface. Just ask for your individual template!
In addition to the device, you will also receive the following accessories included in the set:
1 x TIG-MAX® XT 9000 transport case
1 x TIG-MAX® XT cable with handle, blue, 6m
1 x TIG-MAX® XT earth cable, black, 6m, incl. earth clamp
5 x TIG-MAX® XT 9000 cleaning brushes
1 x TIG-MAX® XT 9000 sliding shroud
1 x TC-275 electrolyte, 1 liter
1 x TC-510 neutralizer, 1 liter
1 x HSF respirator
1 x HSF gloves
1 x HSF liquid container
1 x HSF pressure pump sprayer
5 x microfibre cloths Superclean
1 x HSF wire brush small
1 x HSF safety goggles
1 x user manual and quick start guide
1 x stick with safety data sheets and application videos