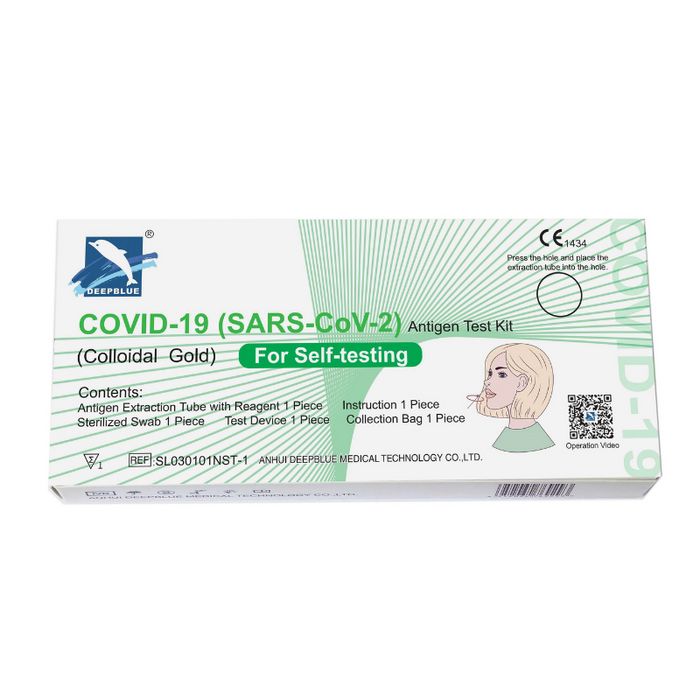 DEEPBLUE ANTIGEN RAPID TEST KIT FOR COVID 19
Save up to

50

%
Save

42

%
Original price
€5,95
-
Original price
€59,50
*Please not we no longer stock the DeepBlue antigen tests and these have been replaced with FlowFlex Rapid Antigen Test Kits. 
Features:
High Accuracy Rate of 98.8%
Available in single Test Kits or Packs of 10 
Results after just 15 minutes!
Quick and Easy to read the result
Excellent performance!
The 4L Protection Antigen Rapid test for Corona Covid-19 gives test results for the Coronavirus within 15 minutes. It has a very high sensitivity and is increasingly used worldwide.
• It is a newly developed rapid test which has been available since mid-September 2020. The test result is quick and just as easy to read as a pregnancy test.
• The test can be taken immediately at the first complaints of fever,
sore throat or cold in the nose.
This antigen rapid test has CE declaration of conformity for use in the European Union.
• It has got approval from the Robert Koch Institute (RKI, the German Institute for disease control) allowing this rapid test to be used in German test facilities.
• It is registered in the Dutch register for medical devices Farmatec of the Ministry of Health, Welfare and Sport (as in vitro diagnostic agent). The test meets the requirements set by the Dutch government for rapid tests for Covid- 19 (specificity at least 97% and a sensitivity of at least 80%).
• It is also validated in Italy with excellent test results (specificity 98.8% and sensitivity 98.3%).