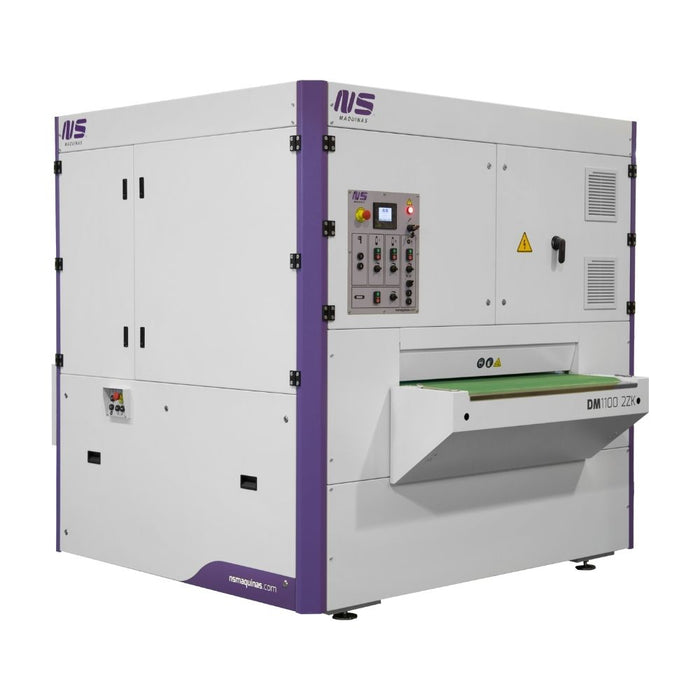 NS MAQUINAS DM660 ZK + DM1100 ZK FINISHING MACHINES
Save

0

%
Save %
Original price
€0,00
-
Original price
€0,00
Max width 1100mm
Dry finishing
1-4 stations
Large capacity for metal sheets finishing up to 660mm or 1100mm width.
DM660 ZK + DM1100 ZK are metal finishing and brushing machines for sheet metal and parts cut by punching, shearing, laser or other thermal method.
Finishing and brushing with different combinations of abrasive belt heads (Z) and oscillating brushes (K).
Surface finishing can be done with one, two or even three abrasive belt contact roller heads and brush stations. Consistent finishing in small parts or large and long metal sheets.
Automatic programs with multiple passes of same panel can be supplied and adjusted to each request.
| | | |
| --- | --- | --- |
| | DM660 ZK | DM1100 ZK |
| Working capacity (mm) | 660x120 | 1100x120 |
| No. belt stations (Z) | 1-2 | 1-2 |
| No. brush stations (K) | 1 | 1 |
| Abrasive belt dimensions (mm) | 660x2200 | 1100x2200 |
| Abrasive brush dimensions (mm) | 660xØ200 | 1100xØ200 |
| Abrasive belt speed (m/s) | 15 | 15 |
| Abrasive brush speed (m/s) | 8 | 8 |
| Feeding speed (m/m) | 4-15 | 4-15 |
| Abrasive belt motor per head (kW) | 11 | 18.5 |
| Abrasive brush motor per head (kW) | 5.5 | 9.2 |
| Feeding motor (kW) | 0.37 | 0.37 |
| Dust extraction connection per head (Ø mm) | (2x) 150 | (3x) 150 |