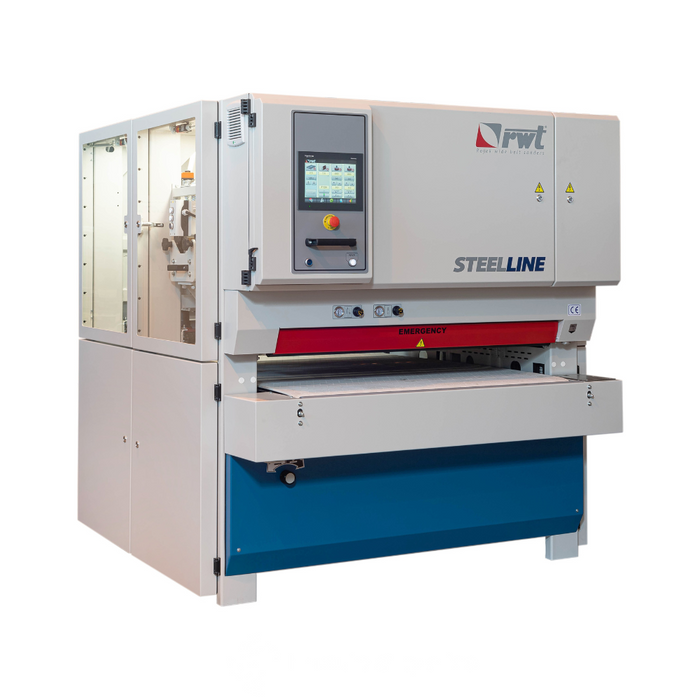 RWT STEELINE BSM 1100 EDGE-ROUNDING & DEBURRING MACHINE
Save

0

%
Save %
Original price
€0,00
-
Original price
€0,00
The BSM 1100 is a deburring and edge rounding machine for sheet metal and parts cut by punching, shearing, laser or plasma.
Removing burrs and creating round edges using cross belts technology is possible on parts up to 1100mm width and on some as small as 50x50mm.
Inside and outside contours of stainless steel, steel and aluminum parts cut by laser or other thermal processes are burrs cleaned from the total surface.
The Machines BSM series can be equipped with the following operating units:
Grinding unit with the grinding belt (R) - removes burrs protruding above the surface of the material, removes scales and corrosion from the surface
Planetary disc brush unit (D) - rounds the edges, creating radius and removing oxide layer on the sides after laser cutting.
Gyroscopic unit (A) with lamela brushes – deburring and edgerounding without foil removing, surface unification.
Brushing unit of grinding fleece (B) - cleans and prepolishes surface material
These deburring machines are used for the following operations:
Deburring parts afeter laser cutting – edge rouding, oxide removing and final surface finishing
Deburring parts after plasma cutting – slag removal, rust removal, removing material overflows, edge rounding and final surface finishing.
Deburring parts after punchpress – sharp edges removal, edge rounding a final surface finishing.
Deburring parts after watter jet cutting – edge deburring and rounding, remove traces after watter jet and final surface finishing.
Deburring stainless steel parts covered with foil – deburring and edge rounding without foil removing.
Main advantages of the machine:
Modular system - we design the machine precisely according to your needs
High quality and uniform deburring all the edges of the product
Processing very small workpieces using the magnetic or the vacuum table
Very easy operating the machine by touchscreen Schneider Electric
Grinding, deburring and finishing with one machine
Very quick change of the tools and the rigid machine frame