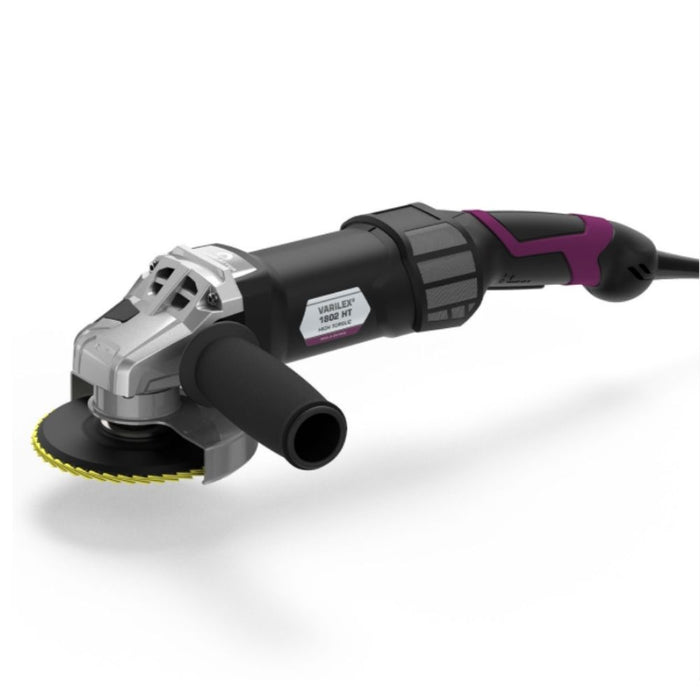 EISENBLATTER VARILEX 1802HT ANGLE GRINDER SET | 110V
Save

0

%
Save %
Original price
€378,00
-
Original price
€378,00
Since the "ceramic age" of flap discs, and indeed of fibre, cutting, and rough grinding discs, the performance demands on hand-held electrical devices (angle grinders, etc.) have grown enormously. Most devices can't stand up to this added friction and contact pressure over the long haul. Grinders overheat quickly, switch off automatically, or the rotor and field coil burn through in no time. Eisenblätter has met this challenge by refining its ceramic flap discs and variable-speed angle grinder under the VARILEX® brand. Effective immediately, the new VARILEX® 1802 HT (high torque) meets all performance demands of cutting-edge ceramic grinding discs of all kinds.
Features:
•
Extremely powerful, durable motor
 with 
1,750 watts
 and optimised, wear-resistant power transmission and mechanism. With new ventilation technology and overload protection for previously unattainable torques (high torque) – 
100% made entirely in Germany
• The newly developed, especially 
ergonomic shaft handle
 reduces strain on the user – at only 2.6 kg total weight, with rubberised inserts for a better grip.
• Optimised especially 
for ceramic grinding discs in the speed range of 2,400-8,900 rpm,
 variably and constantly adjustable with a tacho-generator
• Ideal 
angle grinder for all surface finishing,
 grinding, cutting, rough grinding, cleaning, and polishing, for disc diameters of 115-150 mm.
• Spindle lock with robust slip clutch to avoid inadvertent pressure during operation
• The new DUST PREVENT SYSTEM (patent pending) protective cap effectively prevents direct intake of dust and metal particles without impairing airflow.
• Balanced, vibration-damping transmission handle. Optional: 
vibration-damping 3D ball handle
 ensures balanced handling, even for overhead work.
• Ideal as a 
stationary drive motor
 for optional 
flexible shafts
 (M14 threads) or as a stationary motor for fixing on the workbench by the robust ball joint mount that can be delivered (optional).
Contents of Set:
1 VARILEX® 1802 HT basic machine
1 DUST PREVENT SYSTEM
1 particulate matter protection cap
1 robust, impact-resistant plastic case for machine and accessories 1 protective cover of up to Ø 125 mm
1 clip cut-off wheel cover up to Ø 125mm
1 locking nut
1 chuck key
10 high-performance flap discs Ø 125 mm
10 premium cutting discs Ø 125 x 1.0 mm