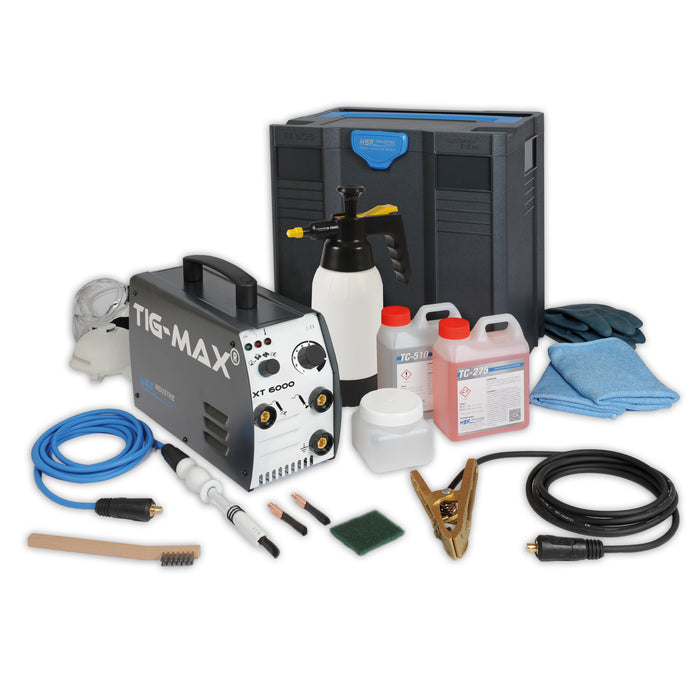 TIG-MAX XT6000 WELD CLEANING SET - 230V
Save

0

%
Save %
Original price
£0.00
-
Original price
£0.00
TIG-MAX® XT 6000 – the latest generation of welding seam cleaning equipment!

It is a powerful, mobile and robust cleaning device for TIG, TIG and MIG welds.
The WIG cleaning machine TIG-MAX® XT 6000 CLEANES, POLISHES and PASSIVATES in just ONE step! The device has a stepless power control, so that an optimally adapted power level of the device can be selected.
In addition, the automatic cooling ensures 24/7 h the entire performance. Thus, a continuous operation is guaranteed with your individually desired power setting.
The TIG-MAX® XT 6000 works with a carbon fiber brush with sliding sleeve system. This serves to insulate and bundle the carbon fibers, as the electrical energy acts only in the tip of the brush. For an optimal result with thicker welds, for example, a double brush can be used instead of the single brush.
Thanks to its easy operation and low weight, the TIG-MAX® XT 6000 Welding Machine is ideal for the following applications: construction sites, assembly in pipeline construction, in the workshop as well as in many other areas.
With the Markingset we also offer you an additional function. With the help of the marker set you can make individual markings or engravings / signatures. This allows you to present your logo on every stainless steel surface. Just ask for your individual template!
In addition to the device, you will also receive the following accessories included in the set:
1 x TIG-MAX® XT transport box
1 x TIG-MAX® XT cable with handle, blue, 3m
1 x TIG-MAX® XT earth cable, black, 3m, incl. earth clamp
3 x TIG-MAX® XT 6000 cleaning brushes
1 x TIG-MAX® XT 6000 sliding shroud
1 x TC-275 electrolyte, 1 liter
1 x TC-510 neutralizer, 1 liter
1 x Respirator
1 x Gloves
1 x Liquid container
1 x Pressure pump sprayer
2 x microfiber cloths Superclean
1 x Wire brush small
1 x Safety goggles
1 x user manual and quick start guide
1 x stick incl. Safety data sheets and videos for use