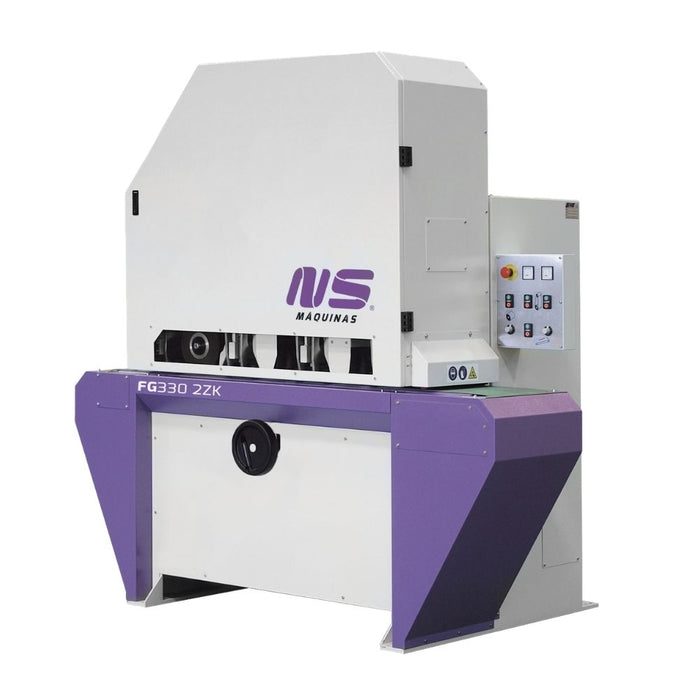 NS MAQUINAS FG330 FLAT FINISHING MACHINE
Sold out
Original price
£0.00
-
Original price
£0.00
Max width 330mm
Dry finishing
1-3 stations
Large capacity for rectangular tubes and bars finishing up to 330mm width.
FG330 flat bar and square tube polishing machines are equipments with a solid construction and ready for intensive work in bars or rectangular tubing.
These machines enable the work up to 330mm width with multiple combinations of belt heads and brushes.
FG330 Z has one abrasive belt unit, while FG330 ZK combines the abrasive belt head with an abrasive brush. A double abrasive belt machine, FG330 2Z, and double abrasive belt plus brush, FG330 2ZK are also available.
Other options such as 3 abrasive belts or modification of order of belts and brushes can also be supplied.
| | | | |
| --- | --- | --- | --- |
| | FG330 ZK | FG330 2Z | FG330 2ZK |
| Working capacity (Ø mm) | 330x200 | 330x200 | 330x200 |
| No. belt stations (Z) | 1 | 2 | 2 |
| No. brush stations (K) | 1 | - | 1 |
| Abrasive belt dimensions (mm) | 330x2200 | 330x2200 | 330x2200 |
| Abrasive brush dimensions (mm) | 330xØ200 | - | 330xØ200 |
| Abrasive belt speed (m/s) | 20 | 20 | 20 |
| Abrasive brush speed (m/s) | 15 | - | 15 |
| Feeding speed (m/m) | 6+12 | 6+12 | 6+12 |
| Abrasive belt motor per head (kW) | (x1) 7.5 | (x2) 7.5 | (x2) 7.5 |
| Abrasive brush motor per head (kW) | (x1) 5.5 | - | (x1) 5.5 |
| Feeding motor (kW) | 0.55 | 0.55 | 0.55 |
| Total power (kW) | 13.55 | 15.55 | 21.25 |
| Consumption (A) | 30 | 32 | 40 |
| Dust extraction connection per head (Ømm) | (2x) 101,6 ext | (2x) 101,6 ext | (3x) 101,6 ext |
| Dimensions (mm) | 1900x1600x2010 | 1900x1600x2010 | 2050x1550x2050 |
| Weight (kg) | 1350 | 1450 | 1520 |