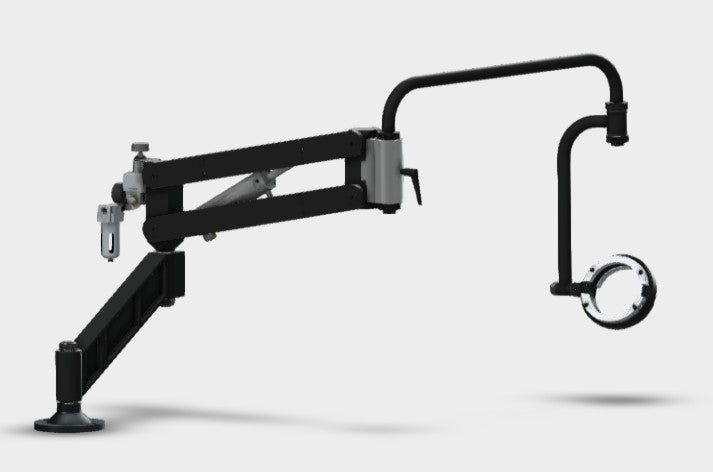 B-19-RG ROTATIONAL BALANCE ARM
Save

0

%
Save %
Original price
£0.00
-
Original price
£0.00
B-19-RG Rotational Tool Balance Arm 
Handheld grinders are powerful tools used in just about every metalworking environment. It is cumbersome and tiring work that puts considerable strain on the user. In a time where companies cannot afford lost time due to injuries, ergonomic solutions are now more important than ever.
1. Dramatically increases Productivity 
– Operators can use a grinder for longer periods of time without becoming fatigued.

– Balancing Arms make even the heaviest of tools feel weightless. This allows operators to use more powerful grinders for faster and safer operation.
2. Reduce or eliminate many common grinding related injuries
–Lifting just a small grinder for several hours a day can put the body under a lot of stress. 

– The arm reduces the number of tool-related injuries and the costly medical expenses that come from it.
3. Reduce tool damage and grinding disc usage
-The arm supports the tool, so tools are no longer dropped when in use, which helps save money on tool repair costs.

– Since tools can be held in an optimal position, grinding disc usage can be reduced.
4. Improve Employee Satisfaction – Reduce Absenteeism
– Absenteeism is reduced because employees can operate the tool for longer periods of time. Restricted duty employees that were unable to perform the task without the aid of an arm can return to work.
5. Improves Quality
-A grinding operator can grind more precisely when he only has to support a fraction of the weight.
The B-19-RG is the best accessory to have when grinding and is becoming a new best practice in facilities all across the country. 
The Balance Arm is non-restricting and gives the operator a complete range of motion allowing for freedom of movement. Save costs and reduce injuries today with the B-19-RG Balance Arm.